Verdict from 5 experts and 5 user reviews
5 reasons to buy
Durability: Many users are satisfied with the 361 Degrees Pacer ST's overall construction.
Weight: Multiple runners confirm that this shoe is light and fast.
Support: A couple of wearers appreciate the stable ride that this shoe provides.
Platform: It is a comfortable neutral training shoe, according to multiple testers.
Forefoot: A few runners mention that it has a roomy toe box.
2 reasons not to buy
Upper: One purchaser experiences rubbing at the heel of the shoe.
Width: A consumer says that it feels a bit wide.
Bottom line
Built to push the runner forward, the 361 Degrees Pacer ST is a cushioned and responsive neutral shoe that aims to deliver an efficient running experience. This
running shoe
works best for athletes with normal gaits or those who do not overpronate (when the foot rolls inward). It is suitable for running on roads and paved surfaces.
Tip: see the best running shoes.
Our reviews
361 Degrees wasn't really on my radar until I came across the Pacer ST. I have plenty of beefed-up long-distance shoes, and a decent collection of minimalist kicks, but the 361 Degrees Pacer ST fits nicely into that vacant gap left in the middle.
It's a slightly (just enough) cushioned, responsive trainer that sacrifices cushioning for speed and pulls it off in style.
The shoe doesn't feel revolutionary (like the Nike React Infinity), but it delivers on its promises with simplicity, reliability, and consistency all bundled into a reasonably priced piece of footwear—and what more can you really ask for?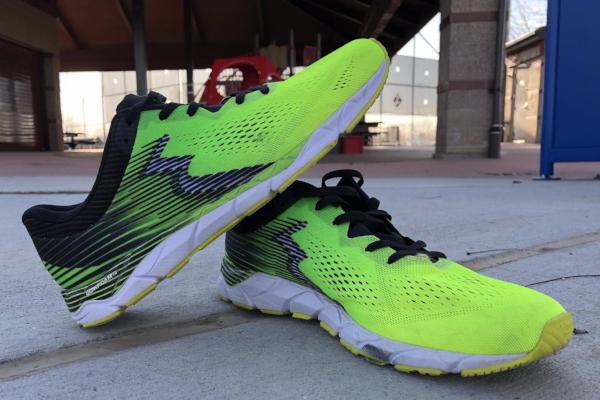 I've put in just about 60 miles in the 316 Degrees Pacer ST, and I've been pleasantly rewarded. While I normally turn to my Hoka One One collection or Nike trail shoes for my long-distance and easy runs, the Pacer ST has become my go-to for tempo runs and interval training.
It has just enough protective cushioning to give me a nice balance of comfort, speed, and recovery. Let's get into the nitty-gritty.
Comfort & grit
You'll notice when you first lace-up that there's a surprisingly cushy feel to the inside of this shoe.
Everything from the tongue to the heel to the side of the shoe has delicate padding that feels just right—not too much, not too little.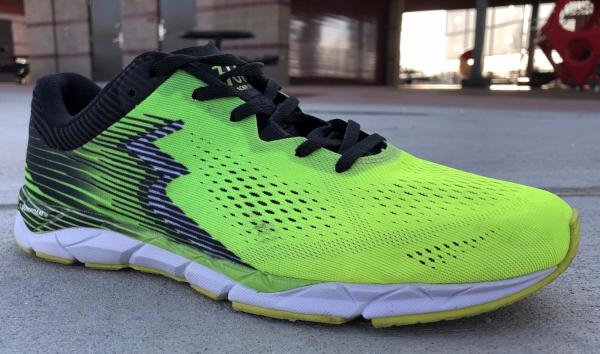 However, the lacing system never felt dialed in. I love the number of eyelets, and I'm a big fan of the ankle eyelet so I can create The Runner's Knot.
Unfortunately, due to the slippery nature of the tongue (and the fact that it's just a tad too short), the tongue never fails to slip into my shoe by mile 3 or 4. If I ditch The Runner's Knot for the traditional knot, then I don't feel the secure ankle lock I'm looking for.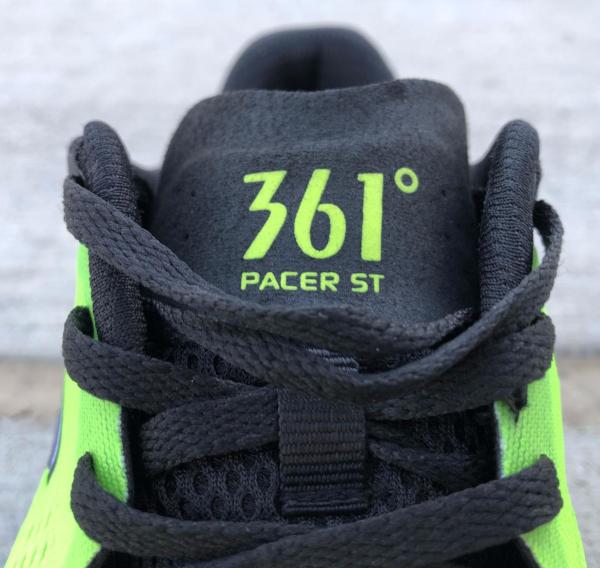 361 Degrees claims it's a "pressure free tongue," but I'd appreciate a bit more pressure to dial in the fit I'm looking for. This isn't a huge concern or a make-or-break detail, but it's definitely one of my biggest gripes with the shoe.
On to happier things, I'm in love with this shoe's responsiveness. Whenever I start pushing the pace, I get great ground feel and tons of returned bouncy energy.
The lightweight nature of the shoe (which is relatively new to me) makes for a slightly faster stride rate and less fatigued legs by the end of my training runs. When I want to add the speed, the Pacer ST definitely makes it easier.
Sizing is a tad off. I typically wear a 10 in running shoes, but the brand recommended I size down to a 9.5 for their shoes. They were right—I'm glad I did, but I found myself in this awkward stage wishing there was a 9.75 size.
The fit from the ankle to the balls of my feet felt great, but I felt like my toes were too close to the edge of my shoe for comfort. Since I'm primarily a forefoot runner, my toes would often slam into the end of the shoe, especially on downhill portions.
Upper
Breathability—that's the first thing I noticed. Boy, does this shoe breathe. I've been doing early morning and late-evening runs in Boulder County's early spring, and I can feel the wind whip straight through these shoes.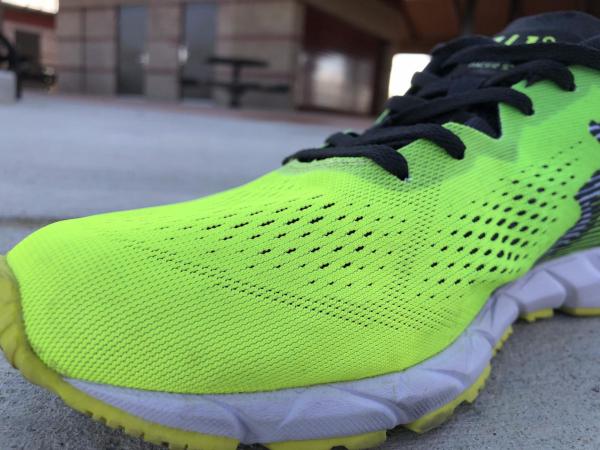 And I like the feeling. Probably wouldn't want to take these shoes out if it's raining or if there's any sort of powdery snow because I'd imagine you'd feel every teeny-tiny frozen water molecule, though.
The tight double-jacquard mesh makes the shoe feel like an extension of my foot. It's soft and pliable while also giving me the protection and security I'm looking for.
Midsole
The 361 Degrees Pacer St utilizes QU!K Spring+ and QU!KFOAM that's supposed to provide energy and comfort without sacrificing weight.
And it does a good job—that's exactly how I'd describe the midsole. I'd say it leans more towards energy and less towards comfort, but that's what you get with a responsive trainer instead of a cushy Hoka.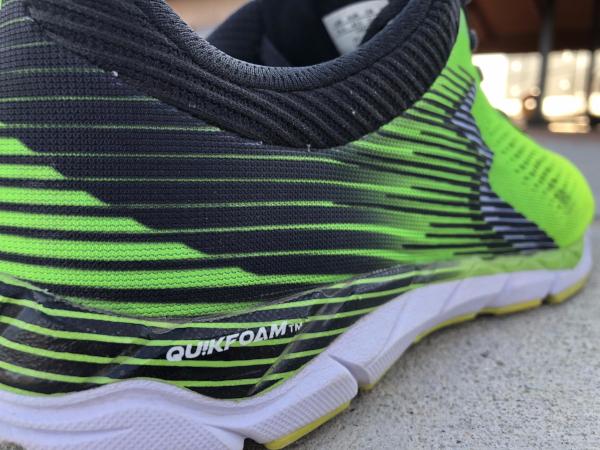 The EVA foam seems to hold it's shape and cushion well. I put shoes on a 48-hour rotating basis, and these always felt plush when I went out for another run. There wasn't a long break-in period, either. By run #2, I felt like I was seeing the true shoe.
Outsole
The rubber outsole delivers great traction and awesome durability. There's little to no wear-and-tear on my outsole, and I've been primarily wearing this shoe on dirt and gravel trails.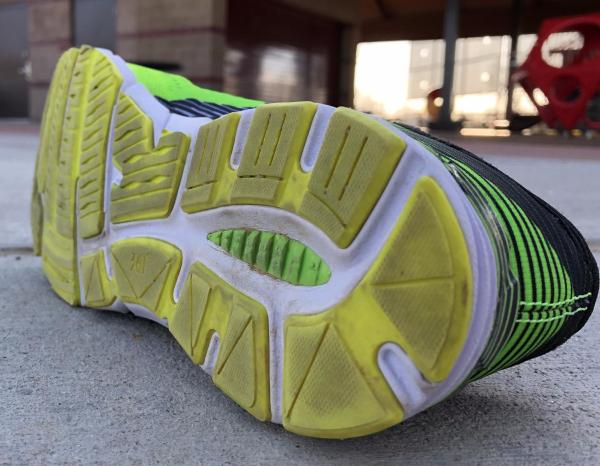 I've used the Pacer St on slick surfaces a couple of times, and I felt like it provided the traction you'd expect—nothing sketchy, but nothing too boast about.
Durability
Can't complain about this shoe's durability. The upper and outsole are both holding up great, and I feel like the midsole cushioning hasn't compromised at all. I' imagine I have hundreds of miles left in this shoe before it becomes obsolete.
Looks
I'm a fan of the narrow, slim look of this shoe, but the color scheme is a bit much for me. I'm far from a fashionista on my runs, but it's hard to put on anything that doesn't clash with these colors.
Love the look, though, just not the colors. I'd like to see some plainer colors released: maybe a black or white base model with these electric colors thrown in there, as well.
Price
At $119.95, this shoe falls below the standard $130+ price of new shoes, but it's not quite a budget shoe, either. It's somewhere in that sweet spot, which I like.
Tl;DR? I got you covered
Pros
Lightweight
Responsive
Cushy ride
Durable
Super breathability
Fast
Low(er) price
Cons
Not enough pressure from the tongue
Polarizing colors
Sizing is a tad off
Conclusion
All-in-all, I really like the 361 Degrees Pacer St, and this will be my go-to for tempo runs and interval training for the foreseeable future.
Right out of the box, some very dynamic colors greeted me. My Pacers were in a two-tone Spark/Gecko color that was extremely vivid!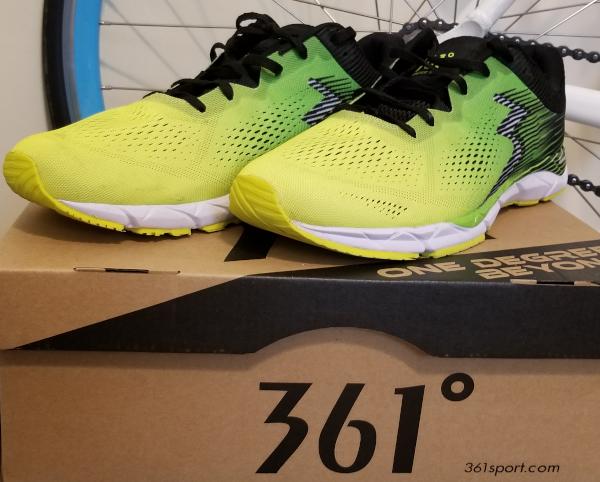 The size 11 1/2 US that I received was just about right for my size 12 feet. At first glance, there appears to be plenty of rubber on the bottom, and a durable looking engineered mesh upper with an internal boot.
Initially, I noticed an almost total absence of stitches, except vertically along the center spine of the heel and at the tongue attachment point, all of which were done very well.
The cushioning, tested at the beginning on my kitchen floor, was nothing spectacular, but as we all know, the proof is in the running... so I laced up and stepped bravely out into the cold wind of a 4 AM winter morning!
Performance
The Pacer has been my shoe of choice for the recent cold winter test runs. Unlike my very breezy Reebok Forever Floatride Energy 2 shoes, the double upper material of the Pacer proved to be far less airy, something my toes appreciated.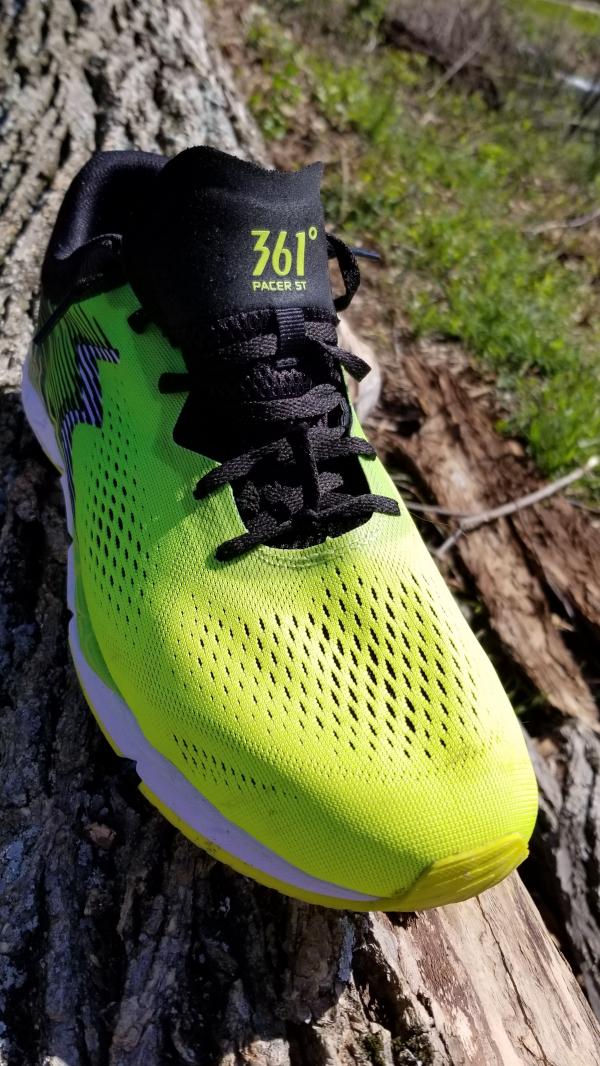 The Pacer ST reminded me of my Asics GT 2000 while being a little more flexible but not as cushioned in the forefoot as the GT.
The "step in" comfort was about average, with an adequate collar and a thin but comfortable tongue and thin laces that stayed tied during all outings.
These Pacers are plenty flexible and bend in just the right place, which for some reason I think is essential. However, even with excellent flexibility, there is a fair amount of heel slippage.
This was something I thought would bother me but didn't seem to matter on my short 5 and 6 mile runs. Tightening the laces didn't seem to affect the heel slippage.
Once out running, the Pacers seem to disappear, allowing me to think about things like breathing, road debris, scenery, animals, all while not thinking about the shoes.
Traction was good, and it was easy to keep a steady pace. Once warmed up, hill climbing was made easier due to the light weight and flexibility as compared to the heavier Brooks Ghost.
While not being a trail runner any more than a mountain biker, I did discover and enjoy some newly created gravel trails in town. The Pacers performed well on the gravel with little or no rocks needing to be removed from the outsoles after my runs.
After 50 miles of easy winter running all while dreaming of warmer days, the Pacers show very little wear even while having run on the newly discovered gravel trails in our new park.
The factors keeping my feet warm in the winter could work against me in the summer, with less ventilation. This is something to think about.
For my style of running, with a midfoot strike, I find the Pacer ST to be nearly perfect, needing only a bit more cushioning and perhaps some external reflectors.
Outsole
The heel and under the arch on the lateral (outside) of the outsole are made of a very firm, high abrasion carbon rubber, while the remainder of the sole is made from a softer blown rubber.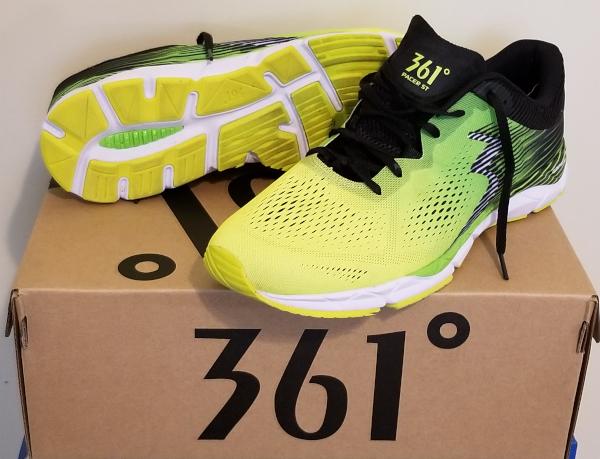 The carbon rubber under the heel provides a stable platform that is very durable, while the blown rubber provides more cushioning, good traction and a quieter ride. There is also enough rubber on these shoes to assure a long life.
Midsole
The marketing department of 361 Degrees must have decided that they needed a catchier term for EVA (ethylene-vinyl acetate), so they came up with QU!KFOAM and QU!K Spring+.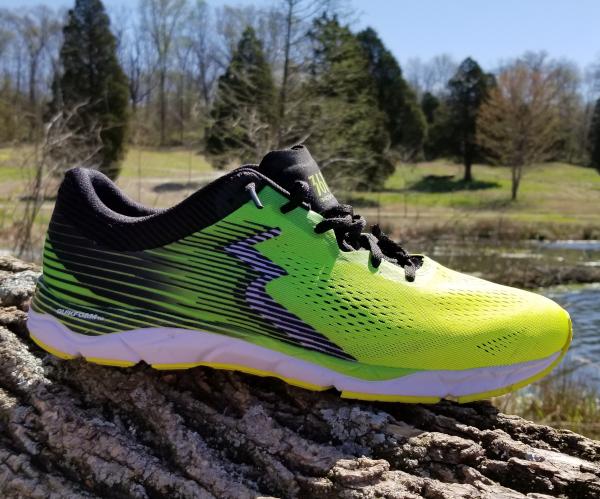 The Pacer ST uses these two variations of EVA, the first of which is what they are calling QU!K Spring+, and it runs the entire length of the shoe, providing most of the cushioning.
Then, under the heel and the arch, along the lateral side, is QU!KFOAM, which is an EVA-rubber compound that provides greater firmness for some added stability.
These two foam variations, along with a carbon fiber acceleration plate and firmer outsole rubber under the heel, add stability that you can feel even when simply standing.
Uppers
The uppers are composed of a colorful Jacquard engineered mesh with an internal boot that provides a comfortable, warm ride on winter days.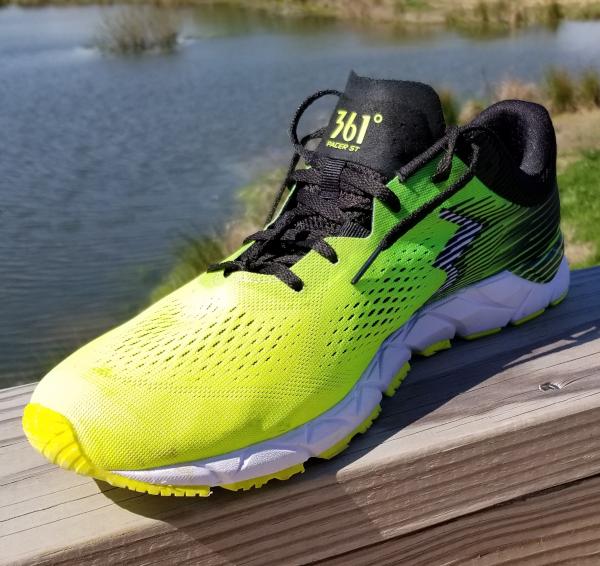 Interestingly, a jacquard weave is created through a computer-controlled loom process, programmed to raise each thread independently of the other threads.
This programming allows for designs of the jacquard fabric to be woven into the weave, rather than being printed onto or dyed into the material.
The familiar term "Jacquard" is named after the inventor of the loom attachment that creates this added control, Joseph Marie Jacquard, from France, of course.
There is a combination of eyelets and loops used for the flat laces, and they stayed tied during all of my outings. I did find it necessary shorten each lace about two inches, so, there is clearly plenty of lace length for everyone.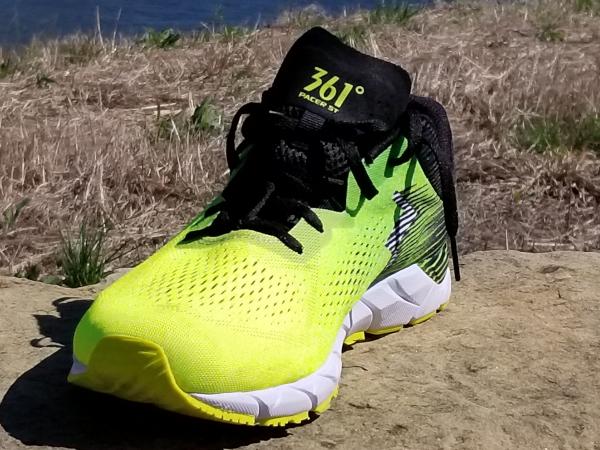 There is a very stiff internal heel counter and a very minimal toebox stiffener. It also has a medium padded collar, a wide and minimally padded tongue that is comfortable and does not slip to the side.
Pros
Warm, not overly breezy uppers
Lightweight
Flexible
High quality
Durable
Great colors
Cons
Forefoot could be more cushioned
Heel slippage might annoy some
No reflectors
Specifications
| | |
| --- | --- |
| Size tested | 11 1/2 US/10.5 UK/46 Eur |
| Weight | 10.2 oz/290 grams |
| Offset/drop | 9mm/.35 In |
| Sizing | 11 1/2 (Note: fits like a size 12) |
| Pronation | Neutral-stability |
| Arch | Medium |
| Toebox width | Medium |
| Toebox height | Medium/low |
| Available in widths? | Yes |
| Cost | $119 |
Summary
The line between the neutral and stability categories of running shoes is often blurred.
While the 361 Degrees Pacer ST is listed as a neutral shoe, the carbon fiber plate, stiff heel counter, hard carbon rubber compound under the heel towards the forefoot, and the use of multi-density foams in the midfoot, make the Pacer ST seem very much like a lightweight stability shoe.
There is also a very suspicious ST in the model name.
I often donate the shoes that I receive for reviewing. However, I may keep these for a long term review or at least until the warmer weather is here.
The Pacers do everything well, with certainly high marks for durability and bright colors. At the price of $119, the Pacer STs are a good value, if they last as long as I think they will.
Good to know
The 361 Degrees Pacer ST is a high-performance road running shoe that is crafted with a responsive cushioning system. It is a brand new model that is ideal for neutral runners or those who do not overpronate.
This lightweight running shoe utilizes the new QU!K Spring+ midsole technology. This material is responsible for providing lasting comfort and rebound while keeping the platform lightweight. The QU!KFOAM is also included for responsiveness and durability.
The manufacturers incorporate a mesh top for breathability. The mesh fabric allows for continuous airflow to keep the foot dry for an extended period. A blown rubber material is also used in the outsole for a firm grip and protection.
The technical components that directly affect the fit of the shoe include the lace-up closure and Ortholite insole. These elements allow the user to customize the cushioning and tightness around the shoe. A pressure-free tongue is also used for a snug fit and added protection.
A new outsole configuration is integrated into the 361 Degrees Pacer ST for exceptional durability and traction. A lightweight engineered blown rubber is placed in the forefoot and a highly durable carbon rubber is utilized in the heel. This outsole configuration is also designed to enhance speed and deliver stability.
A propulsion plate is positioned under the mid-foot through the forefoot section. This element delivers dynamic stability and assists in acceleration while running.
QU!K Spring+ technology is incorporated in this running shoe. The QU!K Spring+ is a lightweight material that is made from an ethylene-vinyl acetate or EVA foam, which is intended to provide excellent rebound and comfort.
Another midsole material called QU!KFOAM technology is used for cushioning and energy return. It is also composed of an EVA rubber that is blended with polyurethane or PU coating. The QU!K Spring+ and QU!KFOAM materials are working together to deliver a high level of comfort without sacrificing durability.
An Ortholite insole is included for an added layer of cushioning and protection. The Ortholite insole also contains 20% recycled materials. It offers a better fit and tailored underfoot comfort that fits the runner's need.
Just like the Brooks Glycerin 16, the upper of the 361 Degrees Pacer ST features a double jacquard mesh for breathability. This element allows for continuous ventilation to keep the foot dry and cool throughout the day.
The Moprhit interior microfiber is used in the midfoot section. This midfoot structure is designed to contour to the foot and help alleviate unnecessary movements. The traditional lacing system is also incorporated to help deliver a snug and personalized fit.
A pressure-free tongue is included to protect the top of the foot from getting pinched by the shoelaces and help prevent irritation during flexion. The tongue has an anatomical pattern and uses soft materials that effectively remove the pressure to the ankle during dorsiflexion. A padded heel collar is also integrated to provide comfort around the heel.
How Pacer ST compares
Corescore: 54-57
3 shoes (0.32% of shoes)
Corescore: 58-61
6 shoes (0.64% of shoes)
Corescore: 62-65
15 shoes (2% of shoes)
Corescore: 66-69
18 shoes (2% of shoes)
Corescore: 70-73
55 shoes (6% of shoes)
Corescore: 74-76
62 shoes (7% of shoes)
Corescore: 77-80
209 shoes (22% of shoes)
Corescore: 81-84
265 shoes (28% of shoes)
Corescore: 85-88
206 shoes (22% of shoes)
Corescore: 89-93
93 shoes (10% of shoes)
Price: $40 - $70
114 shoes (12% of shoes)
Price: $71 - $101
267 shoes (29% of shoes)
Price: $102 - $132
272 shoes (29% of shoes)
Price: $133 - $163
170 shoes (18% of shoes)
Price: $164 - $194
60 shoes (6% of shoes)
Price: $195 - $225
35 shoes (4% of shoes)
Price: $226 - $256
10 shoes (1% of shoes)
Price: $257 - $287
1 shoes (0.11% of shoes)
Price: $288 - $318
2 shoes (0.21% of shoes)
Price: $319 - $350
1 shoes (0.11% of shoes)
Weight: 3.5oz - 4.6oz
6 shoes (0.77% of shoes)
Weight: 4.7oz - 5.8oz
16 shoes (2% of shoes)
Weight: 5.9oz - 7oz
41 shoes (5% of shoes)
Weight: 7.1oz - 8.2oz
113 shoes (15% of shoes)
Weight: 8.3oz - 9.4oz
191 shoes (25% of shoes)
Weight: 9.5oz - 10.5oz
193 shoes (25% of shoes)
Weight: 10.6oz - 11.7oz
152 shoes (20% of shoes)
Weight: 11.8oz - 12.9oz
49 shoes (6% of shoes)
Weight: 13oz - 14.1oz
14 shoes (2% of shoes)
Weight: 14.2oz - 15.4oz
4 shoes (0.51% of shoes)