Our reviews
I am reluctant to admit this, but the Fantom from 361 Degrees is the only shoe that I have ever bought based solely on a picture in a magazine. But, there they were, on page 50 of the "Gear of the Year" issue of Runner's World, an amazingly bright blue and white, and an innovative lacing system.
Then I read about the "TPU film gusseting the laces," these shoes suddenly became totally irresistible.
Eventually, after some searching, I found them at Roadrunnersports.com. With the little information, I had on these shoes; I began clicking the screen and placed my order!
Three days later, my dogs announced the arrival of the big brown delivery truck, and I smiled knowing that I had new shoes for my 5 AM morning run.
Road performance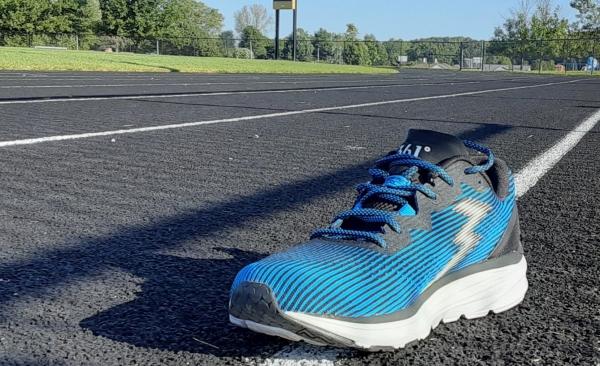 I do have some experience with the 361 Degrees brand, having tested the Pacer ST model last year on these very pages of RunRepeat.com. However, I didn't like them, but this Fantom model has been a totally different experience, and I must admit, quite a favorable encounter for me as well.
My usual early morning runs offer me very few distractions, aside from an occasional family of road-crossing deers, and the Fantoms did not disappoint me with any sort of distractions of their own.
Actually, they seemed to somehow quietly disappear beneath me as I ran. Personally, I like a shoe that can be tied tight and then simply forgotten.
From a personal perspective, I am a 135-lb. runner, who utilizes a mid-foot landing while being a mid-pack finisher of half marathons who greatly values midsole cushioning and a smooth transition. The physical mechanics of this shoe complement my weight, foot size, and foot shape. It also supplements my running style, which means that, for me, they are quiet, fast, and fun.
Transitioning from heel-to-toeoff as well as midfoot-to-toeoff were smooth, quiet, and well-cushioned
I have been getting out earlier in the morning and running further and with less overall effort for a given distance with the Fantoms than with my Brooks Ghosts. They give me a sort of free training effect as I age along with the rest of the world, this is a very welcome advancement.
The only limit to the overall performance of these shoes will be the occupant. The Fantom's will take you wherever you point them, and as fast and as far as you can make them go.
Sizing ALERT!
When I tested the 361 Degrees Pacer ST, I was advised to go down 1/2 size, which turned out to be good advice for that model. However, with the Fantoms, I ordered in my usual size 12, and they did in fact fit very well with the slightly more narrow and more shallow forefoot and toe box compared to the Brooks Ghost.
Outsole
A small amount of carbon rubber, placed in the highest-wearing area, serves alongside the midsole EVA to provide an excellent footprint with nearly 100% road contact.
One of the subtle delights of a truly neutral shoe is the lack of clunkiness during the transition—not possible in some designs that have been given too much thought and over-engineering to the outsole with added shanks, medial posts, guardrails, and dual densities.
I should also like to note that the resulting traction was superb on both dry and wet roadway surfaces.
I have also noticed a tendency for small pebbles to be picked up by the outsole and flex-grooves along the bottoms, and I have found it necessary to make it a daily task to pick them out—a task I enjoyed as I am making a small collection of these little pebbles. I smile as I think of what my wife would have said, " what are these rocks doing here".
Midsole
A generous amount of EVA with wide flex-grooves provides excellent flexibility and cushioning. Above the EVA is the QU!KFOAM and this is actually something other than a catchy name for simple EVA.
QU!KFOAM is a polyurethane-coated EVA and rubber blend that works. The engineers at 361 Degrees have managed to blend cushioning with responsiveness.
Upper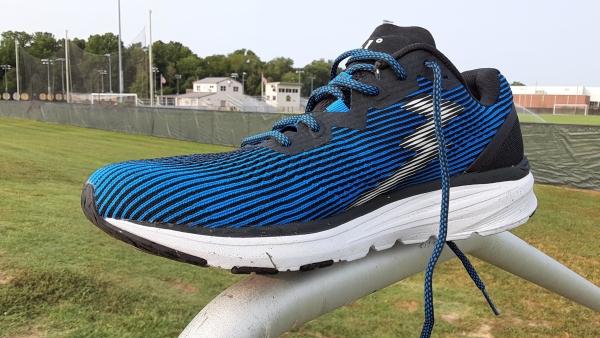 A very simple, thick, and comfortable knitted material makes up the upper. It is a one-piece assembly that maintains its shape with only a few overlays and minimal stitching which will certainly be good for the coming winter months. The toe box is lightly reinforced on the inside, and provides some shape up front, while the heel-counter area is constructed a bit more substantial, and will undoubtedly assure the runner of little to no heel slippage.
The attachment point, where the front of the tongue is sewn to the upper, is done perfectly. And, as we all know, this area is out of sight and often out of mind, until they begin to rub you the wrong way!
Insole:
The insole is a well-shaped and generous portion of QU!KFOAM that can be removed, which also adds a fair amount of additional cushioning.
Tongue, laces and collar
This most innovative tongue has a horizontally placed lace keeper with the words "Stay Put" printed on them. The laces wrap around the keeper, rather than simply passing through it, and a second lace keeper, near the top of the tongue, assures that the tongue will not roam.
The laces are oval-round and stay tied, while the collar is well padded and comfortable, again offering me no possibility of distractions on my morning runs.
Wear ALERT!
The durability of the Fantom's outsole has become a concern to me, with only 40 miles into this review there already seems to be some noticeable outsole wear.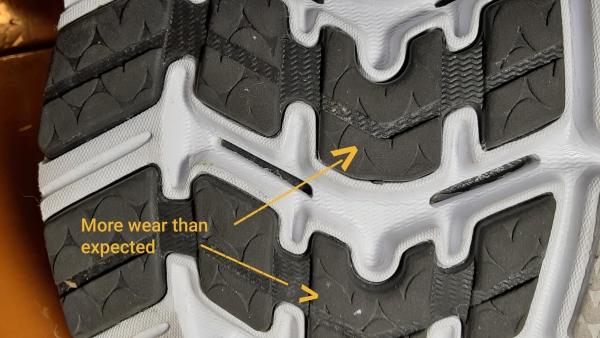 Normally, I don't see much wear at this mileage, I have however been running more on concrete than usual. I will take a few pictures at the end of this review, with a total miles number.
Value
Very good.
Liked the most
Soft, fast, and quiet
Wonderful transition
Winter-ready uppers
Quality materials
Quality workmanship
Can be worn without socks
Total road coverage footprint
Innovative and function lacing design
Liked the least
Wearing a little faster than I would like
Outsole picks up little pebbles
No reflectors
In summation
The Fantom, truly, is a well-built, mid-weight neutral road running shoe with excellent cushioning, and a smooth ride. Personally, I don't mind picking out the occasional pebble from the outsole, and I can even tolerate a little higher than usual outsole wear for the journey that the Fantoms have brought me. I am so impressed with this model that I now have a second pair.
The problem now is what to do with all of those Brooks Ghosts?
My thanks again to Tony, for his help in improving my writing skills.
Run far, my friends.
Compare popularity
Interactive
No popularity data available for this shoe at the moment.
361 Degrees Fantom video reviews